Famous Norwegian Women on Stamps
SAINT SUNNIVA (~900 A.D.)
In Norway there are 3 saints, one is female, Saint Sunniva, a daughter of an Irish King.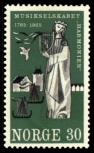 When a heathen king invaded Ireland thousand years ago and wanted to marry her, she run away from Ireland. She came with her companions to Selje, an island at the west coast of Norway. There they lived in caves. The natives were unfriendly and wanted them away. So they took refuge in one of the caves praying God for protection.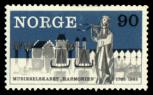 The cave became their prison when it crashed down and locked them up. Later a strange light was seen over the cave, and when opening it their bones were found, only the body of Sunniva remained unharmed. The Norwegian King put up a church on the place and her body was buried there in the year 996. Sunniva became the guardian angel of Western Norway.